radical histories of st. louis and the surrounding regions
---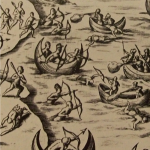 Last month, a crowd tore down a Confederate monument in Chapel Hill, North Carolina, continuing a tradition of iconoclasm initiated in nearby Durham a year ago after the clashes in Charlottesville. Now, as we approach Columbus Day 2018, a panel of experts is debating the fate of the Columbus statue in St. Louis, where several other recent struggles have taken place against police and white supremacy. It's a good time to revisit the colonization of the so-called New World and Native, African, and underclass resistance against it. →
---
---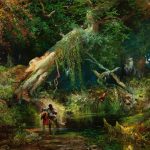 An essay produced as a joint collaboration between The Trebitch Times and CrimethInc., about the unruly slaves and servants, so called, of George Washington. It was prepared for President's Day 2018—a holiday disrespectfully placed in the middle of Black History Month. I hope loyal readers will forgive the diversion from regional matters.→
---
---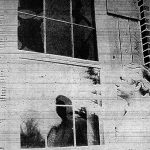 During this period of time, which is of no more significance than any other 5-year period, some rather important-feeling officers of the law became the fortunate victims of the timeless urge to "pull the chair from beneath your bully." →
---
---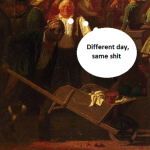 One might suspect a subversive bent to the painting, the one I'm inclined to see of American Democracy's true colors based on the will of white men. But I suspect this is our modern gaze projecting it, for Bingham likely accepted if not championed these very values we object to in Trump and so many other places. →
---
---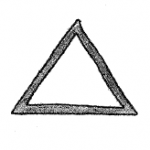 What Mound Have Been is a petite, personal history of the curious earthworks of North St. Louis. The text explores the mysterious origins and unexpected transformations of the city's monumental earthen mounds from the burial grounds of Native Americans to the platforms of early St. Louis colonialists for their self-aggrandizing fountains; from a hideout for delinquent youths to modern industrial usage and its toxic remnants.
What Mound Have Been strikes a balance between humor and history, poetry and prose. →
---
---
When I was a junior in high school, they had a ceremony for a friend of mine who had dropped out of high school to join the Marine Corps and died in Vietnam, and they erected a flagpole in his honor. I felt that was a big waste, part of this war that didn't make any sense—he died in Vietnam for a real stupid cause. One night, we took a bunch of tires and threw them over the flagpole and filled the flagpole with them so they had to cut them off. It was our way of rebelling against the situation. →
---
---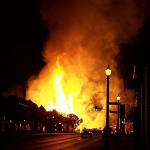 From 2006-2007, a series of fires tore through the construction sites of some of St. Louis's largest and most expensive housing developments. These arsons took place in the centers of what today are still zones of tension between gentrifiers and all those whose lives they affect.
These acts of sabotage burned over $21,000,000 worth of property. A number of these fires pushed already precarious developers and their plans into the housing market crash of 2008, delaying projects for years and others indefinitely. →
---
---
.
"A mob of about 100 people, including at least one grammatically challenged vandal, swarmed Boone County Courthouse Square early yesterday morning, pulled a U.S. flag from a pole and burned it.
Police arrested seven people in the 12:24 a.m. incident, which also included the spray-painting of a fountain near the courthouse, the pavement a few feet away and a pedestrian walk next to Otto's Corner Bar & Grill." →
---
---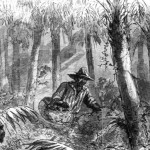 30-year-old John was a runaway slave from Kentucky living in the woods of Johnson County, Missouri. For as many as five or six years John lived free in the wilderness. During that time, he successfully hid and outsmarted his former master, E. L. McLane. The slave owner repeatedly came all the way from Kentucky to try and find him.→
---
---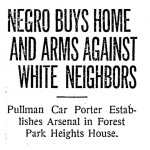 .
In the summer of 1910, the Brown Family moved to Forest Park Heights, an all-white suburban neighborhood southwest of Forest Park. Immediately, residents protested their arrival. Louis Brown had bought the house on the 7500 block of Wise Ave (modern-day Richmond Heights) for himself and his family—including Lela Warwick, a school teacher, four cousins, and at least four other members. Brown was a Pullman porter and had saved wages and tips to buy the house. →
---
---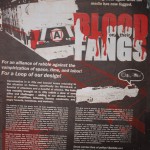 "BLOOD ON THEIR FANGS   For an alliance of rabble against the vampirization of space, time, and labor! For a Loop of our own design!
Conversation in U. City and beyond keeps returning to the situation on Delmar, specifically the Metrolink: a handful of attackers and a handful of attacks. The train has recently brought us U. City rabble a slew of new allies and challenges—adding to the our already motley front of shoplifters, loiterers, Sunday celebrants, and angry tenants, homeless, and workers." →
---
---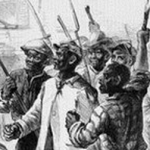 'The clamorous throng pushed forward and forced open the door of the building. The Sheriff struck the foremost man over the head. Then the mob opened fire, to which the Sheriff and deputies replied, and a general fusilade ensued. The front windows and doors of the building were perforated with shot. Ed Long, son of the sheriff, received a buckshot wound in the arm[, shattering his elbow]. James McGrew, colored, was shot through the head and instantly killed. Two other colored men received serious wounds. Several others were slightly injured. The mob retreated and without further effort to obtain possession of the prisoners dispersed." →
---
---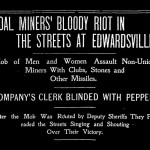 "The women took the initiative in the attack, and were assisted vigorously by the striking coal diggers. The melee started when a striker's wife stepped into the roadway and threw a handful of red pepper into the eyes of Caleb Bartlett, the Madison Company's clerk. In a moment strikers sprang up from all sides and threw themselves upon the non-union workmen and their guards. There was a general fight, the strikers using their fists and stones and clubs." →
---
---
"Rioting Negroes chanting "Little [Rock] Little Rock" battled St. Louis County police early today after an officer arrested a 17-year-old youth on a traffic charge. About 35 Negroes from the village of Meacham Park near suburban Kirkwood were involved in the hour-long riot, police said. Seven were arrested after four patrol cars were called. Bricks and stones were hurled at the car of patrolman Richard Seger, 25, who had stopped Lee W. Lawrence, 17, on a careless driving charge." →
---
---
.
The following is a reprint of the 1897 Post-Dispatch interview with 28-year-old anarchist, Emma Goldman. We trust you'll be able to discern for yourself what of her words are a bit silly today and which ring true 118 years later. →
.
---
---
In April 1968, Dr. Martin Luther King was murdered, and urban areas across the country erupted in riots. New York, Baltimore, D.C., Louisville, Chicago, Pittsburgh—in all, 125 cities burned in a collective venting of frustration and anger by those fucked-over all their lives by white, capitalist Amerikkka. Rebellions also occurred within prisons, including the St. Louis City Jail in downtown St. Louis. →
---
---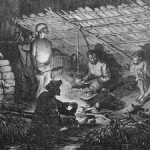 .
When the slave owners returned to the McCutchans', they found that the wagons had circled themselves and at least 25 slaves—big and small, young and old—had barricaded themselves inside.
They were armed with corn knives, clubs, a few guns and boiling water. They'd emboldened themselves by drinking magical tea and coffee made from herbs and gunpowder prepared by Lin. →
---
---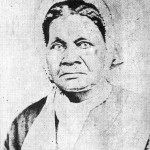 .
Around 1829, 11 families lead by Mother Baltimore left St. Louis, crossed the Mississippi River, and squatted a patch of land. Some of the families had bought their freedom, others were runaways. They called their settlement Freedom Village.
The area they lived, the American Bottoms, was rich with fertile soil, trees, wildlife and fish, and so despite the black codes of Illinois and visits by slave catchers, the maroon community was able to survive. →
---
---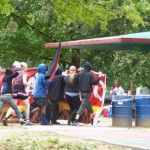 In the early fall of 2006, the location of the Council of Conservative Citizens' annual secret picnic was leaked. Local antifa had been trying to disband the CofCC for the past few years: harassing them at their own demonstrations and publishing counter-information about them.
As far anyone can tell, after this brawl the CofCC never met publically again in St. Louis. →
.
---
---
In 1962 after a police officer shot Donnel Dortch, a black teenager, Kinloch erupted into at least four days of protests, riots and arsons. The response of the police, city officials, the governor and media are quite similar to their Ferguson descendants 50 years later. →
---
---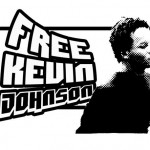 "At jury selection when McCulloch asked a middle-class looking white man of about sixty, 'Is the fact that it was a police officer who was heinously killed going to effect your decision making abilities,' he replied, 'Oh, no. Not at all.'
Two local DJ's were even fired over a conversation that occurred days after the shooting, in which they encouraged callers to debate what they would do if a cop uncuffed them and challenged them to a fight – would they go for the cop's gun or radio first?" →
---
---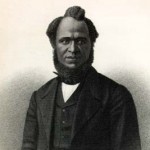 Diggs demanded to see John's pass. John tried smooth-talking Diggs for a bit, but Diggs decided John was a runaway and ordered his slaves to catch him. After running for an hour, six slaves and Diggs cornered John who had been brandishing his knife. Not wanting to make the first move the six slaves waited for Diggs to attack. When Diggs did John stabbed him and then kept running. John soon heard Diggs ordering the slaves to pursue him, so John returned and stabbed Diggs till he died. At this point John was able to convince the remaining six to stop chasing him. →
---
---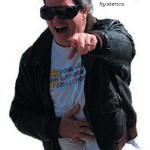 In 2007, the National Socialist Movement announced it would be marching in Columbia, Missouri. The city government, clergy, community leaders, media and NGOs began a campaign of encouraging the town to just ignore them. While many who showed up the NSM march did so for the spectacle of it, other showed up to physically stop the march. →